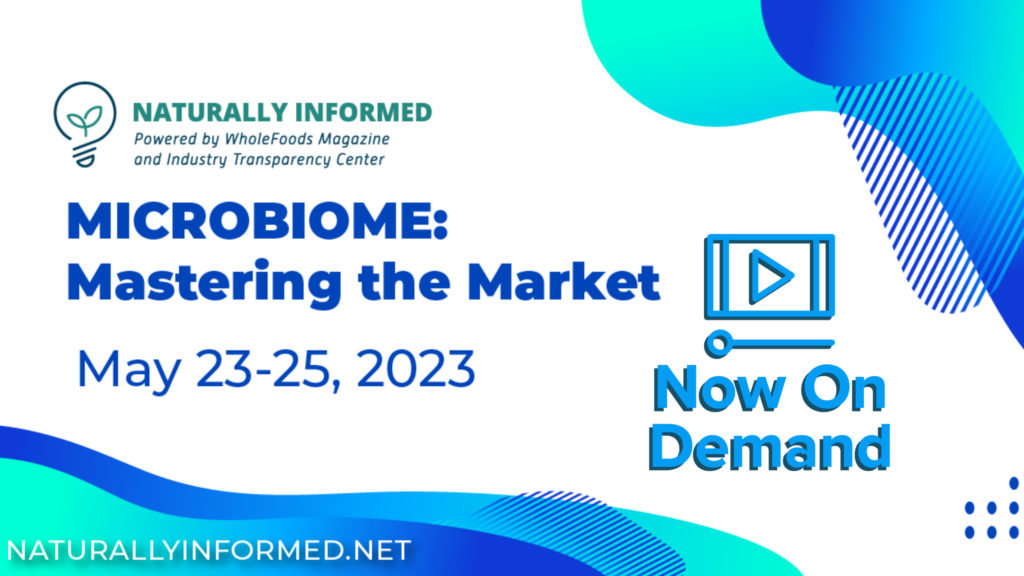 If slides are available, they can be accessed by clicking the downloadable PDF icon under each video/image. Session descriptions are available here and speaker bios may be accessed here. Thank you for staying #naturallyinformed with us. 
Welcome & Insights into the Microbiome Market
KEYNOTE - Mechanistic Mining of the Microbiome for Metabolic and Mental Health
Presented by Harriet Schellekens, PhD
The Next Generation of Immune Health – A Postbiotic with Real Clinical Research
Presented by Danielle Citrolo, Pharm D
Abundant Biotics: Engaging brands and consumers on the definitions and diverse benefits of pre- and postbiotics
Presented by Alexis Collins
Spotlight on New Fundamental Research in Prebiotics
Presented by Cynthia Fernández-Lainez
Insights into 'Biotic' Supplement Consumers – Deep Dive into Gut/Brain and Inflammation Targets
Presented by Traci Kantowski & Aurore de Monclin
Keynote – SIBO: A Common Imbalance in the Gut Microbiome – Clinical Pearls for Diagnosis and Treatment
Presented by Drew Sinatra, ND, FACN
Actionable Microbiome Insights for Health, Disease, Aging, and Drug Responses
Presented by Nathan Price, PhD
Targeting Science to Meet Consumer's Digestive Needs
Presented by Samantha Ford
Awakening New Perspectives: Enzymes for Digestion and Microbiome Health
Presented by Julia Cravens
Spotlight on New Applied Research in Prebiotics
Presented by Ambra Giorgetti
Keynote – The Kitchen Prescription: How to Revolutionize Your Gut Health with the Food You Eat
Presented by Dr. Saliha Mahmood Ahmed
Panel - Case Studies: Microbiome Entrepreneurship
Presented by Lucie Hayter, Madeline Lauf, & Marc Washington
Dietitians and 'Biotics – Driving the Discussion
Presented by Kara Landau, RD
Challenges in Postbiotic Communication: Are consumers ready for postbiotics?
Presented by Aubrey Levitt
These Folks can Really Shut You Down
Presented by Asa Waldstein
MICROBIOME MARKET SNAPSHOT VIDEO