Meet our Editorial Advisors who vet every session to ensure the content is appropriate and meets our audience's needs. 
Science & Technical Director
Trust Transparency Center
Editor-in-Chief
WholeFoods Magazine
The schedule is subject to change.
The first day of our Naturally Informed #sustainabilitysolutions event will guide you through core issues of sustainability in the sourcing of ingredients and manufacturing of foods, drinks and supplements in the better-for-you space.
With a focus on innovation and investment in sustainable solutions, a plethora of world-class speakers will look at how companies can drive sustainability in a way that is better for business.
Open and Introduction
Event co-chairs Maggie Jaqua and Nathan Gray welcome you to the event and set the scene for two days of learning and networking.
KEYNOTE
Kiss the Ground: The importance of regeneration to the industry … and beyond
Josh Tickell will dive into his 7+ years traveling the world making the Kiss the Ground documentary film and writing the Kiss the Ground book to give a broad and unique perspective on the emergence of a global regenerative moment. Specifically he'll give thoughts on what are the key personal value drivers that are pushing consumers, companies and NGOs toward regeneration as well as defining what regeneration is coming to mean to its many new constituents.
Driving sustainability through new technologies, investment & innovation
Companies are starting to realize the true value of driving sustainable actions in their business and supply chain. Sustainability is no longer be seen simply as a CSR activity that 'ticks the box', but as a real business opportunity to create further value for the company through new activities. This is driving a new wave of start-ups, food tech giants, investors and entrepreneurs to realize focus on sustainable innovations that are both good for business and good for the planet.
Roundtables
These are interactive sessions led by our Editorial Advisors and select speakers. Sign up is available here: https://naturallyinformed.net/schedule/roundtables/.
1:30 to 2 p.m. ET
Greg Ris, Vice President, Sales - Indena U.S.A., Inc.
Resilience in Action: Best Sourcing Practices for Supplier Sustainability
Learn about building a supply chain focused on sustainability, best practices when selecting raw material sources and hear case studies of sustainability in action. Discover organizations and resources that are monitoring companies for ethical behavior. Find out key trends that will impact sustainability and the global supply chain over the next five years and beyond.
Sustainable sourcing: Best practices for value-added ingredients
Sourcing ingredients in a sustainable way has long been a topic of hot discussion for the food and drink industry – with huge focus on commodity ingredients like cocoa, coffee and palm oil, to name just a few. But what about non-commodity ingredients, like specialist botanicals and other value-added ingredients? Sustainable sourcing remains a vital issue for some of the most recognizable nutritional ingredients. This session explores the issues and best practices at the heart of a sustainable botanical supply chain.
From waste to value: The next food ingredients revolution?
Food waste is rapidly becoming the biggest issue of our time, and with a huge proportion of food wastage occurring during farming, processing and manufacturing, it is a vital consideration for companies looking to improve their sustainability credentials. But the concept of 'doing more with waste' goes well beyond the traditional idea of finding a new use for a by-product – now, more than ever, companies are getting creative with how they look at all of their outputs, and how they can recycle or reuse them as inputs into new processes to drive truly sustainable business opportunities.
On day two of our Naturally Informed #sustainabilitysolutions event, an impressive lineup of speakers will discuss the urgent need for action, and strategies that are being implemented from farm to shelf to make the sustainability shift, with a special focus on consumer attitudes and how brands and retailers can effectively communicate with consumers on topics related to sustainability. 
KEYNOTE
Regenerative Agriculture 2020: A Primer on the Future of Food
Day 2 will kick off with an keynote address presented by Thomas M. Newmark, Founder and Chair of The Carbon Underground. Explore the evolution of the concept, where it stands today and where it needs to go in the future. Come prepared to ask your questions and gain a deeper understanding of the pressing issues and promising solutions.
11:45 a.m. - 12:45 p.m. ET
Beyond Sustainability: The RegenAg Movement
The world is at a tipping point. Experts stress that at the current rate of soil degradation, it will take less than 50 years to no longer have enough suitable soil to grow the crops needed for humans to feed themselves. Regenerative agriculture is a way to jump-start a positive chain reaction that fosters the health of people and the planet--and can be beneficial for your bottom line, too. This panel of leading changemakers will discuss the steps, both small and large, that are needed right now. Join the conversation with your questions.
Roundtables
These are interactive sessions led by our Editorial Advisors and select speakers.
1:15 - 1:45 p.m. ET
Cheryl Baldwin, Ph.D., Vice President of Sustainability Consulting, Pure Strategies
Sustainable packaging is a keystone issue for corporate sustainability, and one of the first environmental concerns companies began to tackle proactively. Progress was being made in recent years, but then the pandemic hit, and the market changed. Join this talk for a look at where things stand now, and how extensive collaboration within and across industries is bringing hope for the future.
1:45 to 2:45 p.m. ET
Alan Lewis, Natural Grocers and Abraham Nabors, Mustard Seed Market & Cafe
Retailer Roundtable: Starting Local to Spark Change
Retailers are improving the health of their neighborhoods by focusing on the triple bottom line: People, planet, prosperity. This panel will discuss the initiatives and innovations that are making the difference, helping to lift up their communities and beyond with a focus on social, environmental and economic issues. Join in live to ask your questions and share your own efforts and ideas to help educate and inspire others.
Sustainable Living: Effectively Communicating with the Consumer
This talk will explore how consumer attitudes towards the environment are evolving and what consumers expect from brands when it comes to the topics of sustainability. Gain insights into how to effectively communicate corporate and socially responsibility messages and how to align sustainable products with key consumer need states when it comes to health and formulation.
Sustainable Sips with Charles Chen (Virtual Happy Hour)
Our event closes with a networking happy hour featuring our special guest: Chef & Wellness entrepreneur Charles Chen, Founder of Zzeal.co. Chen shared a signature cocktail (see below) for the event, so attendees can raise a glass to this industry working together for the greater good.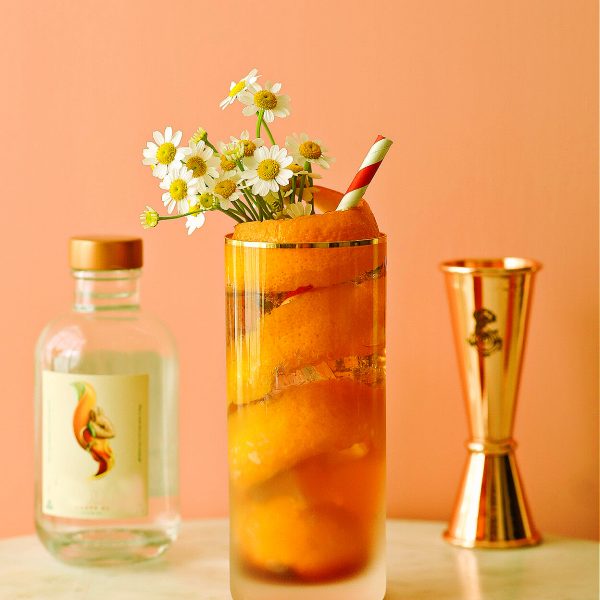 Recipe provided courtesy of Chef & Wellness entrepreneur Charles Chen. 
Ingredients: ( Makes 1 Drink)
1 1/2 oz Citrus Juice ( Orange, Pomegranate, Grapefruit) 
2 oz Seedlip Grove/Citrus Cocktail Mixer 
2 1/2 oz Soda Water 
Ice
Cara Cara Orange Peel
1 shot of vodka ( or skip for mocktail)
Fresh Chamomile Flowers ( Decor Optional) 
Instructions:
Arrange orange peel in glass. Add ice to hold peel in place.
Layer shrub, Seedlip Grove/Your Choice of Citrus Cocktail Mixer and soda water over ice. 
Stir. 
Garnish with fresh Chamomile flowers.