Driving Opportunities in the Microbiome Space Schedule
Below you'll find the #winthemicrobiome schedule. We'll update this page regularly with new speakers and sessions, so be sure to keep checking in!
Tuesday October 20: Understanding the game: The science and technology of gut health and the microbiome
Day 1 Roundtables have concluded.  
Considering the oral microbiome as a target for future immune formulations
Moderated by Alexis Collins, Product Manager, Stratum Nutrition, and Dr. John Hale, Chief Technology Officer (Science), Blis Technologies Ltd.

Pre or Pro – which one has the most potential?
Moderated by Maggie Jaqua, Editor-in-Chief, WholeFoods Magazine, and Len Monheit, Executive Director, GPA
The Microbiomes of the Body – Dietary & Lifestyle Influences
Moderated by Dr. Douglas Kalman, Ph.D., R.D., FISSN, FACN, Vice President of Scientific Affairs, Nutrasource, and Loren Brown, Director of Business Development – U.S. Regulatory and Clinical Development, Nutrasource
Wednesday, October 21: Winning the game: Commercialization strategy and routes to market success
Please select your roundtable for Day 2. Once you sign up you will receive an email confirmation with login credentials. This is separate from your overall event access. 


What Drives Probiotic Supplement Choice?
Moderated by Michael Modjeski, Vice President of Sales and Marketing, Wakunaga of America, Co., Ltd.


Curcumin – Role in Gut Health
Moderated by Dr. Anurag Pande, Vice President, Scientific Affairs, Sabinsa
Making Gut Health and Microbiome a Priority in FMCG and Center Store
Moderated by Nathan Gray, Science & Technical Director, Trust Transparency Center
Microbiome Marketing During COVID-19: Best Practices Do's and Don'ts
Moderated by Nancy Trent, President, Trent & Company, Inc. Marketing Communications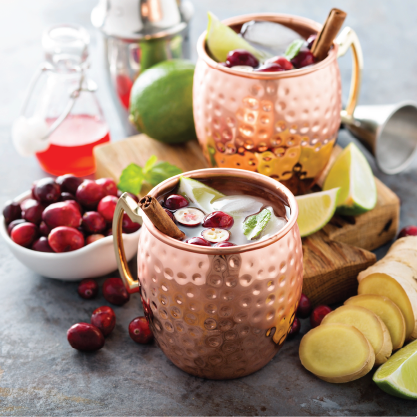 Ingredients
1.5 oz vodka
½ cup of ginger-lemon kombucha
1 lime juiced
1 tbsp fresh cranberries
Fresh Ginger to taste (optional)
Ice
Garnish with fresh cranberries and fresh mint  
Directions:
Place a few cranberries and fresh ginger at the bottom of a copper mug (or glass) and muddle slightly
Fill mug/glass ¾  with ice
Add vodka, kombucha, and lime juice and mix well
Add additional cranberries and garnish with mint and lime if desired
This variation of a Moscow mule combines gut-friendly ingredients like kombucha, cranberries and mint for a refreshing and healthy libation. Moscow mules are traditionally served in a copper mug, but they taste great in whatever vessel you have available.