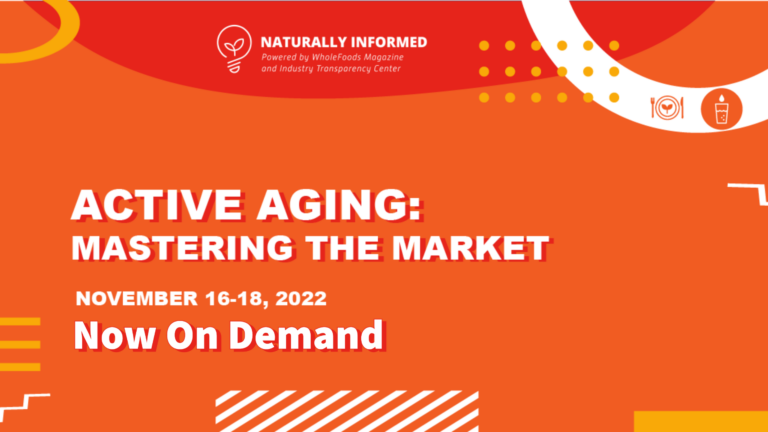 If slides are available, they can be accessed by clicking the downloadable PDF icon under each video/image. Session descriptions are available here and speaker bios may be accessed here. Thank you for staying #naturallyinformed with us. 
Welcome and Market Insights
Presented by Len Monheit, with Maggie Jaqua
Nutritional Opportunities for Women: Let's bring Science to Application
Presented by Abbie Smith Ryan, PhD, CSCSD, FNSCA, FACSM, FISSN
Active Lifestyle for Healthy Aging
Presented by Anurag Pande, PhD
EAAs: The Under-Recognized Key to Anti-Aging
Presented by Susan Hewlings, PhD, RD
Hobamine – A Radical Approach to Cellular Health
Presented by Greg Macpherson
Keynote - Optimizing health, fitness and body composition at any age
Fireside chat with Pamela M. Peeke, MD, MPH, FACP, FACSM
Quercefit® Quercetin Phytosome™─ A multi-target ally for healthy aging
Presented by Priya Rangan, PhD
Faster, Stronger & Smarter: Advertising to an Aging Population
Presented by Lauren Aronson and Matthew Orr
The Intersection Between Performance and Longevity: Designing Appealing and Relevant Products for the 50+ Consumer
Presented by Marlena Hidlay and  Eric Ciappio, PhD, RD
Panel: Ingredient Science Trends
Presented By David Foreman, RPh, ND; Kaitlin Roke, PhD; Gene Bruno, MS, MHS, RH(AHG)
David Foreman's Presentation
Kaitlin Roke's Presentation
Gene Bruno's Presentation
Keynote – Wellness and Aging: How Am I Doing? 40 Conversations To Have With Yourself
Presented by Corey Yeager, PhD, LMFT
Active Aging Market Trends
Presented by Scott Dicker
Regulatory and Enforcement Update on Notable Action in the Active Aging Space
Presented by Asa Waldstein
Panel: Your Guide to Standing Out from the Crowd!
Presented by Kelly Miano, Susan Fecko, and Jane Phelps
Kelly Miano's Presentation
Susan Fecko's Presentation
Jane Phelps' Presentation
ACTIVE AGING MARKET SNAPSHOT VIDEO